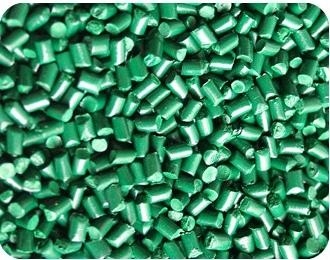 Green Masterbatch EF-G4615
Product Description
GREEN MASTERBATCH EF-G4615
GREEN EF-G4615 is a green LDPE based masterbatch containing 30% pigment, designed for use in polyolefin resins (PE and PP, etc.).
Color Index No.: Green 7.
Method of Usage:
GREEN EF-G4615 is designed for ease of dispersion and is therefore suitable for direct addition and mixing with plastic resins in mixer, avoiding pollution and mal-scattering problems caused by pigment.
Range of Application:
GREEN EF-G4615 is designed for use in LDPE, HDPE, LLDPE and PP for production of premium high glossy films.
Physical Properties:
Carrier: LDPE
Pigment Content: 18%
Density: 23℃ 1.35g/cm3
MFI: 2.16kg/190℃ 18g/10min
Compatibility: LDPE, HDPE, PP and Ethylene Copolymer
Quoted test results should not be used for specification purposes but are typical test values intended for guidance only without warranty.
Packaging:
GREEN EF-G4615 is supplied in regular pellet form packed in 25kg bags. It should be stored in a dry place.
| | |
| --- | --- |
| Payment Terms: | TT |
| Packing: | 25KG/Bag |