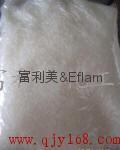 CLARIFIER AND NECLEATION
| | |
| --- | --- |
| Min. Order: | 1 KG |
| Keywords: | CLARIFIER |
| Origin: | Made In China |
| Brand: | Eflam |
Product Description
CLARIFIER AND NUCLEATION MASTERBATCH FOR POLYOLEFIN RESINS

CLARIFIER AND NECLEATION MASTERBATCH NU600PP

NU600PP is an additive masterbatch made up of PP carrier and odorless, high-transparency nucleation agent. Apart from making the general PP products much more transparent, it also effectively prevents them from shrinkage or deformation.
Method of Usage:
NU600PP is designed for ease of dispersion and is therefore suitable for direct addition and mixing with plastic resins in mixer to avoid any problems may occur in storage and mal-scattering under low temperature caused by PP clarifier agent.
Range of Application:
NU600PP is designed for use only in PP material for such final products as film, tubing and sheeting, etc. The recommend addition rate is 2%-4%.
Physical Properties:
Carrier: PP
Density: 23℃ 0.920g/cm3
MFI: 2.16kg/190℃ 25g/10min
Compatability: PP
Quoted test results should not be used for specification purposes but are typical test values intended for guidance only without warranty.
Packaging:
NU600PP is supplied in regular pellet form packed in 25kg bags. It should be stored in a dry place.
| | |
| --- | --- |
| Payment Terms: | TT |
| Packing: | 1KG/Bag |